4 Days Luxury Red Centre

To Norther Territory - 3 Nights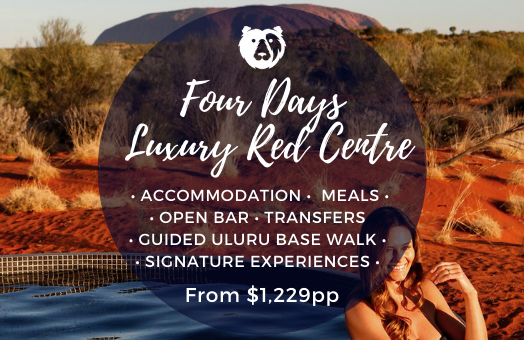 Destination:

Norther Territory

Duration:

3 Nights

Travel Dates:

01/05/22 to 31/03/23

Offer Expires:

31/03/23
From
AU$5,669
Price per person
Package Details
Overview
Discover the beauty and deep engrained history of the red centre while relaxing in luxury at the Longitude 131°, arguably one of the best luxury wilderness camps in the world.
Details
Situated on a secluded sand dune close to the border of the dual World Heritage listed Uluṟu-Kata Tjuṯa National Park, Longitude 131° is arguably one of the best luxury wilderness camps in the world. In the crisp, white linen of a king-sized bed you find the serene, silent sleep of the desert. Above the sweeping canopy of your palatial tent floats a greater canopy, endless and sparkling – a starry night sky you simply don't see in the city. As one of only 30 pampered guests, you awake to your own private view of the sun rising over Uluṟu (Ayers Rock). Reflecting a rainbow of colours, Uluru drenches you with its fabled light. This award-winning luxury wilderness camp in Australia's Red Centre has achieved new heights in ecotourism the world over. Longitude 131° is a deluxe camping experience like no other, set atop an isolated sand dune, close to the border of the Uluṟu-Kata Tjuṯa National Park. Stay 3 nights and enjoy all of the usual inclusions and signature experiences apply plus the receive spa credits and the option to undertake a guided Uluṟu Base Walk.
Inclusions
3 nights at Longitude 131° in a Luxury Tent
All dining
Open bar with French Champagne, premium wines and spirits
BONUS Two $50 Spa Kinara credits per room
BONUS optional Guided Uluṟu Base Walk
Signature experiences
In-tent bar
Ayers Rock airport return transfers
National Park Fees
UPGRADE to a Dune Pavilion from $5,400* per person twin share
Field of Light:
Discover an outback wonderland as the Uluṟu sunset continues, with the mighty monolith fading slowly to the background as the field of lights takes centre stage.
Guests wander at leisure along pathways through the award-winning sculptor Bruce Munro's incredible light installation. An outback fairyland, the celebrated open air art phenomenon is made up of some 50,000 individual stems crowned with colourful frosted glass bulbs that bloom and appear to sway as the inky night blankets Australia's spiritual heartland.
As darkness descends on the desert, guests are transported to Table 131°, to dine under a glittering canopy of stars.
Duration: 45 minutes
Mala Walk & Kantju Gorge:
Journey to the base of Uluṟu and learn about the Aboriginal Mala people. Longitude 131° guides lead guests on a discovery trail along the caves which occur around the rock and whose walls reveal ancient Aboriginal artworks. Learn the significance of each 'room' and the cultural stories each one tells.
A meandering pathway leads through groves of green trees and along boardwalks over spinifex and occasional streams, depending on the weather. At dusk the tour reaches Kantju Gorge, a giant 'fold' among Uluṟu's rippling surface. There, guests enter a cool reserve lined by trees which leads to a waterhole which the local Aboriginal people use for swimming. As the sun sets, it casts a golden light across the rock faces, striking it a brilliant red against a deep blue sky.
Guests enjoy a moment of reflection at the pool, before sampling canapés and sipping sunset drinks at the Longitude 131° pop up bar.
Duration: 2 hours
Mutitjulu Meander:
A morning walk around Uluṟu's base tells the Aboriginal Tjukurpa story of Kuniya Piti and reveals the swimming hole and frequently running waterfall at Mutitjulu. It's also the home of Wanampi, an ancestral watersnake.
Lush green trees and grasses are a surprising sight in this section of Uluṟu. The Aboriginal story of Kuniya Piti is integral to a better understanding of Uluṟu and the Anangu belief system. When walking around Mutitjulu Waterhole visitors are surrounded by the presence of two ancestral beings: Kuniya the woma python and Liru the poisonous snake.
The individual Kuniya and Liru stories occur on different sides of Uluṟu, but their dramatic battle took place near Mutitjulu waterhole, and a giant cave nearby reveals the secrets of the story from start to deadly finish.
Morning tea is served in the cool shade of the trees before the tour returns to Longitude 131°.
Duration: 2 hours
Table 131°:
Longitude 131°'s signature dining experience, Table 131° makes for an unforgettable evening. Set among the red sand dunes in a remote, secret location, Table 131° features a decadent four-course dinner with matched wines, perfect for a special occasion.
Guests discover the wonder of the outback's inky night sky, which allows the Milky Way to play centre stage, shining brightly without the distraction of city lights.
As the cool of the night sets in, guests look up between courses to discover the stories of the southern skies, and perhaps catch a glimpse of a shooting star. The lodge guide offers a tour of the sky, with legends from the Greek Gods told alongside Aboriginal creation tales from the Red Centre.
Duration: 2 hours
Uluṟu Sunset:
The Uluṟu Sunset experience is a gathering for Longitude 131° guests with drinks from an exclusive pop up bar just in time to see the sun set and transform the monolith in glowing shades of pink, orange and purple.
The Uluṟu Sunset viewing area is the best place to see the sun set over Uluṟu. It's also a popular spot for visitors to take selfies, couple and family shots as well as landscape photos of Uluṟu as it appears to change colour as the sun dips behind the domes of Kata Tjuṯa to the west.
A pop up bar exclusive for Longitude 131° guests is set up in prime position to watch the light change its cast over Uluṟu, a little further along the sandy pathway from other travellers. Enjoy French Champagne, Australian craft beers and premium spirits accompanied by canapés with fresh Australian ingredients and outback flavours.
Duration: 2 hours
Walpa Gorge & Kata Tjuṯa:
An unforgettable discovery of Kata Tjuṯa, this early morning adventure heads to the World Heritage-listed site where 36 mighty red rock domes gather in the desert landscape. The group appears mistily on the horizon, glimpsed between desert oaks and spinifex on the approach.
In the company of a Longitude 131° guide, guests learn about the geology and history of the formation, formerly known as The Olgas. The site is sacred for the local Aboriginal people, and kept as a closely held secret as part of Anangu men's business. Longitude 131° guides are permitted to know and share some of the Tjukurpa, and these stories offer a more personal understanding and connection to this special part of the country.
The guide leads guests through Walpa Gorge, with its towering rock walls and surprising tree-lined creeks and waterholes. From there the tour heads to the Kata Tjuṯa viewing platform, which offers a step-back view of Kata Tjuṯa and the chance to capture a panoramic view including Uluṟu. It's a magic spot for morning tea, with coffee, tea and freshly-baked goods on the menu.
A visit to the Cultural Centre at Uluṟu completes a morning of discovery in the Red Centre. The centre is designed by the local Anangu people, with long pathways providing cool refuge. Here, guests learn about the history of the Aboriginal people at Uluṟu-Kata Tjuṯa, and about their art and culture. Aboriginal artists often spend time at the centre painting, carving and sculpting.
Duration: 4 hours
Why Barrow & Bear Travel?
We are a dedicated collective group of agents where you come first. Your holiday is about you, not us. We want you to come back telling us how amazing your time was, share with us all your great photos and stories. Our guarantee to you is that we will give you all our dedication and passion when planning your unique adventure. Barrow & Bear gives you free holiday planning and personalised service. What are you waiting for? Give our agents a call now on 1300 976 874 or email sales@barrowandbear.com.au
Terms
Conditions apply. On sale until  31 Mar 23 for travel until 31 Mar 23. ~Maximum credit value per suite, conditions apply. Prices correct as at 1 Mar 22 but may be adjusted if surcharges, fees, taxes, or currency exchange rates are affected. Offers subject to availability. (All savings and bonus nights are included in the advertised price). Fees apply for direct payments made to Viva Holidays using a debit or credit card. Amounts payable to third parties not included. Bookings must be made directly with Viva Holidays or a travel agent, please confirm all prices, availability and details with your consultant before booking. Cancellation fees apply, offers may be withdrawn without notice and are not combinable with any other offers unless stated. The Viva Holidays General Booking Conditions apply vivaholidays.com.au/policies/booking-conditions. Viva Holidays Pty Ltd ABN 78 634 662 294.
For more details on Barrow and Bear's Terms & Conditions Click Here or speak to your travel expert on 1300 976 874
For more details on Barrow and Bear's Privacy Policy Click Here
Travel Enquiry