6 REASONS VIETNAM IS THE PERFECT DESTINATION FOR FIRST-TIME TRAVELLERS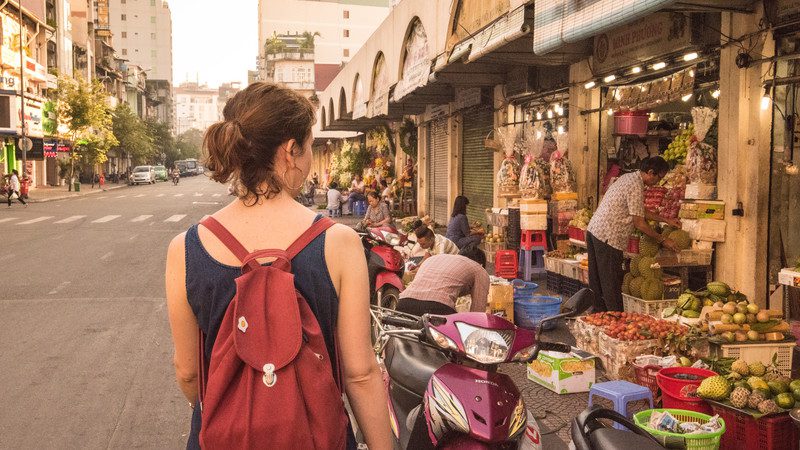 But seriously, your first trip abroad is a biggie for a million reasons, not least because it'll be your first time experiencing a culture outside of your own. That means you'll want your destination to hit all the standard requirements – great food, a wide range of interesting stuff to do, beautiful scenery – but you'll also want it to be foreigners-welcome spot.
May I suggest Vietnam? I went there on a group trip early on in my adventure-taking life, and it's one of the best places for travelling with others, and for first-time international travellers in general. Here's why:
1. The people are awesome and friendly.
2. Speaking of food, Vietnamese eats are absolutely, positively delicious.
My favorite Vietnamese dishes were pho (rice noodle soup with meat, seafood, and veggies); banh mi (a baguette filled with meat and other Vietnamese staples, like cilantro, cucumber, jalapeno, and pickled carrots); and – wait for it – egg coffees. Before you scream "eww, egg yolks in coffee, I just can't even," hear me out: this coffee is made with egg yolks andsugar and condensed milk. So yes, there are egg yolks in your coffee, but thanks to the deliciously sweet condensed milk and sugar, it tastes heavenly. I definitely want to go back to Vietnam, if nothing else to experience the magic of this drink all over again.
3. There are tons of incredible things to do and see.
Are you a beach bum? Head to the coastal city of Tuy Hoa, which has insane stretches of sand and lots of good snorkelling. Are you a history buff? Check out Hue, an historic citadel with lots of places to visit (spotlight on all of the tombs). What about adventure? Play around in the caves of Phong Na or Cat Ba Island, both of which are loaded with beautiful natural scenery. I could go on, but you get the point. Whether you're into adventure travel, or more of a history buff, or a foodie, or a beach bum, or whatever type of traveller you are… Vietnam's got you. Bigtime.
4. It's affordable.
If you're looking to travel on a budget, this is one of the best spots for you. For starters, the country is really big on the backpacker's circuit, which is usually a good indicator that it's got some affordable options. But perhaps most importantly, the major travel essentials – accommodation, food, and public transport – are all fairly affordable, so you may even end up spending much less than you'd think. It's important to remember that Vietnam is still a developing country, so things will cost less than they do at home.
5. The weather is great.
Because Vietnam is a very long country (1,000 kilometres in length), the weather varies by region and spans many different climate zones. The cool part about that is that ultimately, Vietnam is a guaranteed year-round destination as a result; somewhere in the country will be nice at all times. Here's a basic breakdown of the weather by region.
North Vietnam (including Hanoi and Halong Bay):
The winter lasts from November to April, when the temperatures range from 17 to 22 degrees Celsius. Summers, which last from May to October, are a lot warmer; temperatures can rise to 37 degrees Celsius, though it's also the rainy season.
Central Vietnam:
This region has a really long dry season, from January to August, with temperatures often averaging in the mid-30s (really nice). The rainy season runs from October to December.
South Vietnam:
Only 8 degrees north of the Equator, South Vietnam is basically the tropics. Though it definitely has a rainy season (May to November) and a dry season (late February to April), the temperature remains constant, at around 30 degrees Celsius all year round.
6. The public transportation is easy enough (and a good way to experience the local culture).
For longer journeys, the trains in Vietnam are convenient and comfortable, especially the overnight ones. Most backpackers end up taking the train from Hanoi to Ho Chi Minh City, which takes about 30 hours. But if you book an overnight train, you can sleep through most of it; the cabins have air conditioning and are generally pretty comfortable. The buses are generally okay too, though most travelers end up using them for shorter trips within cities.
No matter where you go or what you do, make sure to spend some time on a boat too. Vietnam offers all sorts of boat tours, including the famous tour of Halong Bay, and lots of other boat tours to cave-heavy areas. Taking a river tour along the Mekong Delta, where you'll see local fishing villages and general scenic beauty, is also a must.
In the end, though, while you can certainly plan out a rough itinerary for your trip, the best way to experience Vietnam is to just go with an open mind, and let the country – the people, the food, the beauty – speak for itself.
written by Annie Daly  & Intrepid Tours
Why Small Group Travel?
The world's a big place and it's human nature to get out there and explore it. The only thing is, it's a really big place. And there's a plethora of different languages to learn, borders to cross and cultures to negotiate. Small group adventure travel makes these things easy and allows you to maximise your precious time off. Instead of worrying about logistics, you can focus all your energy on having the experience of a lifetime.
Why Barrow & Bear Travel?
We are a dedicated collective group of agents where you come first. Your holiday is about you, not us. We want you to come back telling us how amazing your time was, share with us all your great photos and stories. Our guarantee to you is that we will give you all our dedication and passion when planning your unique adventure. Barrow & Bear gives you free holiday planning and personalised service. What are you waiting for?
Give you agents call NOW 1300 976 874.